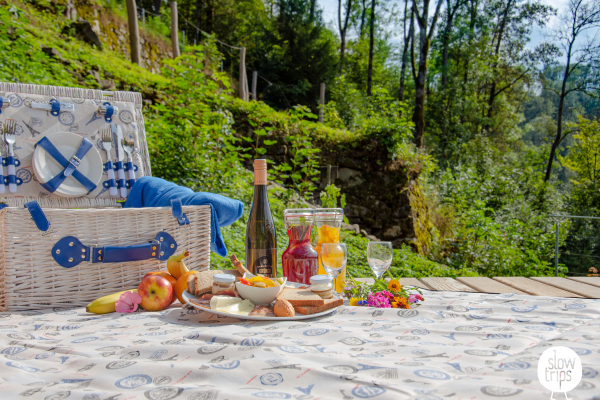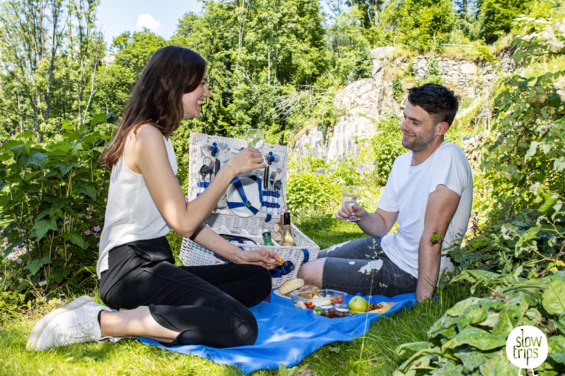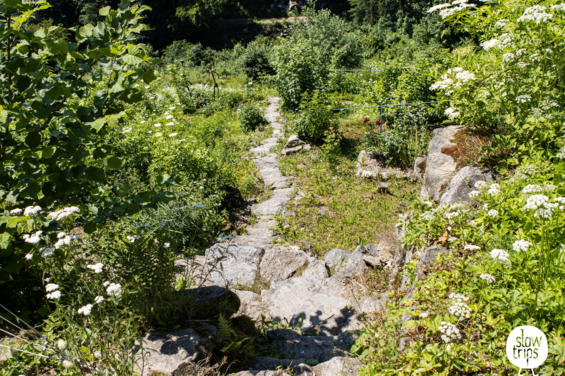 Climb the Jahresstiege with its 365 granite steps ("Jahr" means "year" in German) and learn more about this cultural heritage site and its history. Once you reach the top, settle down for a picnic of regional delicacies and enjoy the striking scenery surrounding you.
Enjoy a picnic basket full of regional delicacies.
Climb the Jahresstiege steps, a cultural landmark.
Discover local history.
Take a dip at the "Naturbadeparadies Rodlbad", a natural river pool for bathing and relaxing.
Included

Breakfast basket for 2

Ham, salami, cheese, vegetables, fruit, jam, chocolate spread, butter, bread
Coffee, tea or hot cocoa
1 bottle of bubbly
1 bottle of homemade lemonade

Picnic basket for 2:

Ham, cheese-stuffed sausage cold cuts, cheese, pickled vegetables, pork lard, "Liptauer" spread, fruit
1 bottle Gramaphon Grüner Veltliner wine
1 bottle of homemade lemonade

Vegetarian picnic baskets available on request!

Number of participants
2 Persons
Spoken Languages
German, English
Specific requirements

You'll need at least a basic level of physical fitness and sturdy footwear to master the climb.

Please note that the Jahresstiege is not wheelchair-accessible.

Important information

€50 per picnic basket (for 2 adults)

+ €50 deposit per picnic basket

Availability
April - October
Meeting Point:
48.38084740306647, 14.188887213968046
Gramaphon, Marktstraße 18, Gramastetten, Austria
Parking is available at Restaurant Gramaphon and in the town centre.
How to get there:
By bus: "Postbus" from Linz or one of the surrounding municipalities to "Gramastetten Ort". From there, it's a 10-minute walk: Walk westward along "Linzerstr." towards "Rodltalstraße", take a left onto "Marktstraße", another left onto "Schmiedberg", slight right onto "Mitterweg". At the end of "Mitterweg", you'll find signage pointing towards the Jahresstiege hiking path.
By car: Head to the parking lot at the Gramaphon Restaurant
Detailed description to the offer:
Welcome to Gramastetten, where you'll find the Jahresstiege, also known as "the Machu Picchu of the Mühlviertel".
The Jahresstiege is an impressive natural treasure but also grants a glimpse into local history. Jahresstiege translates to "year's steps". It gets its name from the 365 granite steps — one for each day of the year. In the 19th century, local doctor Alois Peither commissioned the Jahresstiege and the terraced walls surrounding it. He owned the steep and hilly area behind the church and hired the local poor to terrace the slopes and build the steps. This resulted in more employment as well as creating fertile terraces which could be cultivated.
Today, the steps and green terraces have been revitalised and are perfect for a steep hike surrounded by natural wonder. After climbing the steps, you'll find a mulberry tree that was planted long ago in an attempt to breed silkworms. Nibble your way through the gardens, discover interesting insects and the occasional animal sunbathing on the warm stones.
Cosy spots invite hikers to linger and enjoy a picnic. Whether you opt for breakfast or a mid-day snack — the picnic baskets assembled by Restaurant Gramaphon in Gramastetten are full of local delicacies, cool and hot drinks and, of course, also a picnic blanket.
Relax with a cup of coffee or homemade lemonade. Let your gaze wander, taking in the beautiful hilly Mühlviertel landscape and the Lichtenhag castle ruins.
We recommend taking the whole day to discover the area. After climbing the steps and refuelling with your picnic, head to the "Naturwaldbad Rodlbad", a cluster of natural bathing areas within the forest.
Want to know more about the area? Use the app "Donau Geschichten" (German only) to listen to interesting background information about the Danube Region.
Additional delivery service available for a €10 surcharge: receive your picnic basket at your chosen spot at the top of the steps. Please contact Gramaphon Gramastetten if you're interested in this service.
About the region
Gramastetten lies nestled in the beautiful forest and hill country of the Mühlviertel region. It's a popular destination for active trips and relaxation alike, full of natural beauty and with a historical town centre. The local network of hiking trails comprises 24 well-market routes. You have so many choices here, whether it's a romantic hike in the valley of the river "Große Rodl", the educational nature and forest trail, or the path to the mountain spring "Augenbründlein", where you'll get a fantastic panoramic view over the Mühlviertel hills. An overview of available hiking trails can be found here: https://bit.ly/3oNSDwG
Don't miss out on getting a taste of a traditional local shortcrust pastry called "Gramastettner Krapferl", which is still being made locally following the original age-old recipe.
Meanwhile, the so-called "Heimatbuch", in the form of plaques on the old townhouses, serves as a guide through the historical town centre. It imparts information about former owners, their trades, and important historical events. It also shows what these buildings used to look like in the past.
Which person stands behind the offer:
My name is Rene Füreder, and I'm the managing director and head chef at Restaurant Gramaphon. I completed my apprenticeship at "Gasthof Mitten in der Welt" and then worked in various establishments. In 2013, Johannes Roither and I took over Restaurant Gramaphon together. We care a lot about the quality of regional foods and prefer to create our dishes using regional and seasonal ingredients. At Restaurant Gramaphon, we offer classic cuisine, but we also keep developing and refining our menu to offer our patrons a modern glimpse into the Mühlviertel cuisine.